This article titled "Samsung Galaxy S6 review: the iPhone killer" was written by Samuel Gibbs, for theguardian.com on Thursday 23rd April 2015 05.00 UTC
The Galaxy S6 is the latest flagship Android smartphone from Samsung, a design-focused all-metal and glass powerhouse with one of the best cameras to date.
The S6 comes in two varieties: one traditional flat smartphone and one with curved edges to the screen, the S6 Edge.
The follow up to the Samsung Galaxy S5, which had cutting edge technology but lacked a premium design and feel, the S6 continues the Korean company's reinvention of the look and feel of its smartphones and tablets.
The S6 takes the simple design and solid feel of Samsung's Alpha and ditches all plastic, relying solely on aluminium and glass for its outside shell.
Smooth metal and glass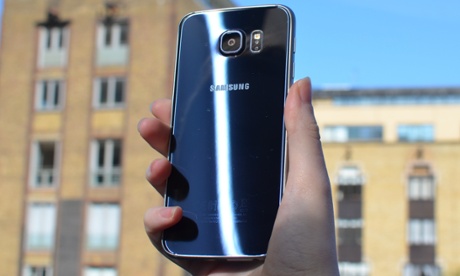 While not quite as eye-catching as the S6 Edge with its curved screen, the standard S6 marks a line in the ground for Samsung: design should be at least level with technology when driving the direction of new devices.
The S6 is Samsung's first smartphone to ditch the plastic or fake leather back, replaced by glass front and back with a rounded aluminium band running around the side of the device.
It is solidly built with absolutely no give or flex anywhere in the body, but loses the waterproofing of last year's Galaxy S5. The glass back is also prone to light scratching, which is only visible in bright light.
The S6 is 6.8mm thick and weighs 138g, which makes it thinner but heavier than Apple's 6.9mm thick, 132g iPhone 6 and thinner than most other top-end smartphones, including the 7mm thick S6 Edge.
The 5.1in quad HD screen is one of the best ever fitted to a smartphone: pin sharp, vibrant and with rich blacks and wide viewing angles. The 5.1in full HD screen of the Galaxy S5 was good, this one is significantly better.
Overall, Galaxy S6 could be considered the second best-looking smartphone Samsung has ever produced, only beaten by its curved screen Edge version, and finally matches HTC and Apple on craftsmanship.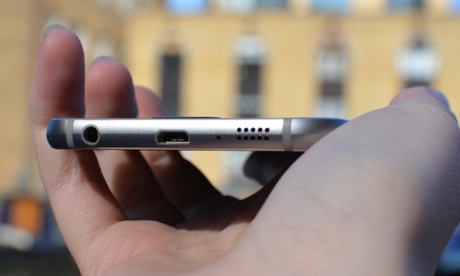 Specifications
Screen: 5.1in quad HD AMOLED (577ppi)
Processor: octa-core Samsung Exynos 7420
RAM: 3GB of RAM
Storage: 32/64/128GB; no SD card
Operating system: Android 5.0.2 "Lollipop" with TouchWiz
Camera: 16MP rear camera with OIS, 5MP front-facing camera
Connectivity: LTE, Wi-Fi, NFC, wireless charging, Bluetooth 4.0 and GPS
Dimensions: 143.4 x 70.5 x 6.8mm
Weight: 138g
The fastest phone going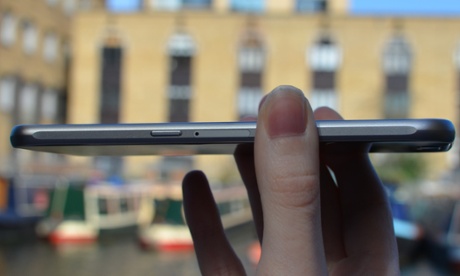 The Galaxy S6 line is the first to use Samsung's own Exynos processor in US, EU and UK versions of the Korean company's smartphones. Typically the Exynos chips have only been used in countries without 4G coverage, favouring Qualcomm's Snapdragon chips in the US, EU and UK.
The octo-core Exynos 7420 processor has two quad-core processors combined in a Little-Big combination. A lower power 1.5GHz chip (the little part) performs most undemanding tasks and a more powerful, but also more power hungry 2.1GHz chip (the big part) takes over when needed.
The new chip and 3GB of RAM make the S6 easily one of the fastest Android smartphones to date. But that speed and high-density screen come at the price of battery life.
Like the S6 Edge, if the big 2.1GHz processor fires up the battery takes a hit, but the flat S6 performed better in my testing. Generally it would last a day and a half before needing to be charged, which still isn't the best – Sony's Xperia Z3 lasts over two days per charge – but is better than some competitors.
Charging is fast, especially using the USB power adapter that comes in the box, while support for multiple wireless charging standards is convenient.
Samsung's excellent power saving modes work well and extend battery life by days, but only by sacrificing usability.
Stripped back software
The S6 runs the same version of customised Android called "TouchWiz" as the S6 Edge, just without the few edge-screen apps.
It is significantly improved over the bloated versions of previous Samsung smartphones, but while most of Samsung's less-than-great apps are gone, third-party apps take their place.
The Facebook, Instagram, WhatsApp and Messenger apps, plus Microsoft's OneDrive, OneNote and Skype all come pre-installed and can't be fully removed but can be disabled straight from the launcher.
While TouchWiz is still not as clean and attractive as the standard Android interface or efforts from HTC and Sony, it is a vast improvement all round compared to the company's previous software.
Camera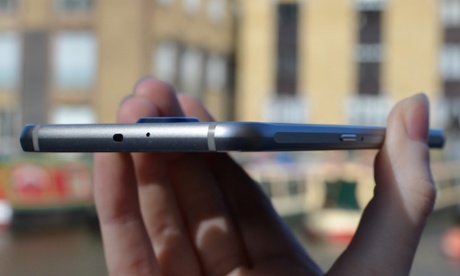 The S6's 16-megapixel camera one of the best ever fitted to a smartphone and capable of producing rich, detailed photos with very little skill required from the photographer. The optical image stabilisation smooths out hand shakes well and low light performance is solid.
A double press of the home button launches the camera, which makes capturing the here and now much easier.
The front-facing 5-megapixel selfie camera is also great, while the heart-beat sensor on the back of the phone can be used to trigger a photo.
Smart lock with fingerprint reader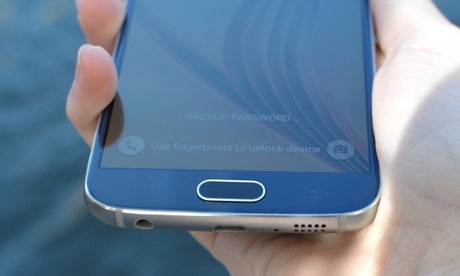 Samsung's touch fingerprint sensor under the home button no longer requires users to swipe their finger over it, and is significantly more accurate and easier to use as a result.
When combined with Android Lollipop's smart lock, which keeps the S6 unlocked if connected to a trusted Bluetooth device, it makes getting into and out of the phone quicker and can be used to authenticate purchases and secure certain apps such as LastPass.
Price
The Samsung Galaxy S6 comes in four colours and three versions one with 32GB of storage costing £600, 64GB costing £660 and a 128GB costing an as yet announced sum.
Verdict
The Galaxy S6 is the best smartphone Samsung has ever made and arguably the best Android smartphone available. It finally matches the craftsmanship of high-end rivals and looks and feels great.
It lacks a microSD card slot, meaning it will be worth buying the 64GB storage version, and it also doesn't have a removable battery which will impact longevity.
A brilliant camera, fingerprint sensor and wireless charging round out a compelling package. Battery life could be better, but it will last at least a day, possibly longer depending on your usage.
After many pretenders, Samsung finally has the iPhone killer it's been trying to produce.
If it's a choice between the S6 and the S6 Edge, the curved screens of the Edge are more eye-catching but the S6 feels a lot nicer in the hand. The small battery differences aside, which one do you like the look of better?
Pros: fast, great screen, attractive design, good fingerprint reader, excellent camera, wireless charging

Cons: no removable battery or storage, Facebook and Microsoft apps bundled, back glass easily scratched
Other reviews
• Samsung Galaxy S6 Edge review: curves for pleasure, not function
• Samsung Galaxy A5 review: a mid-range smartphone with high-end looks and feel
• Samsung Galaxy Note Edge review: curved screen is more than a gimmick
• Google Nexus 6 review: big is beautiful, but not manageable
• Sony Xperia Z3 review: great battery life and quality camera
• Apple iPhone 6 review: thinner, faster and slightly cheaper
guardian.co.uk © Guardian News & Media Limited 2010
Published via the Guardian News Feed plugin for WordPress.